We serve so much more than just great breakfast, and our offerings extend far beyond what our name implies. We decided early on that quality and the customer experience would be our focus, and we have extended that principal into every salad, soup, sandwich, or wrap that we make.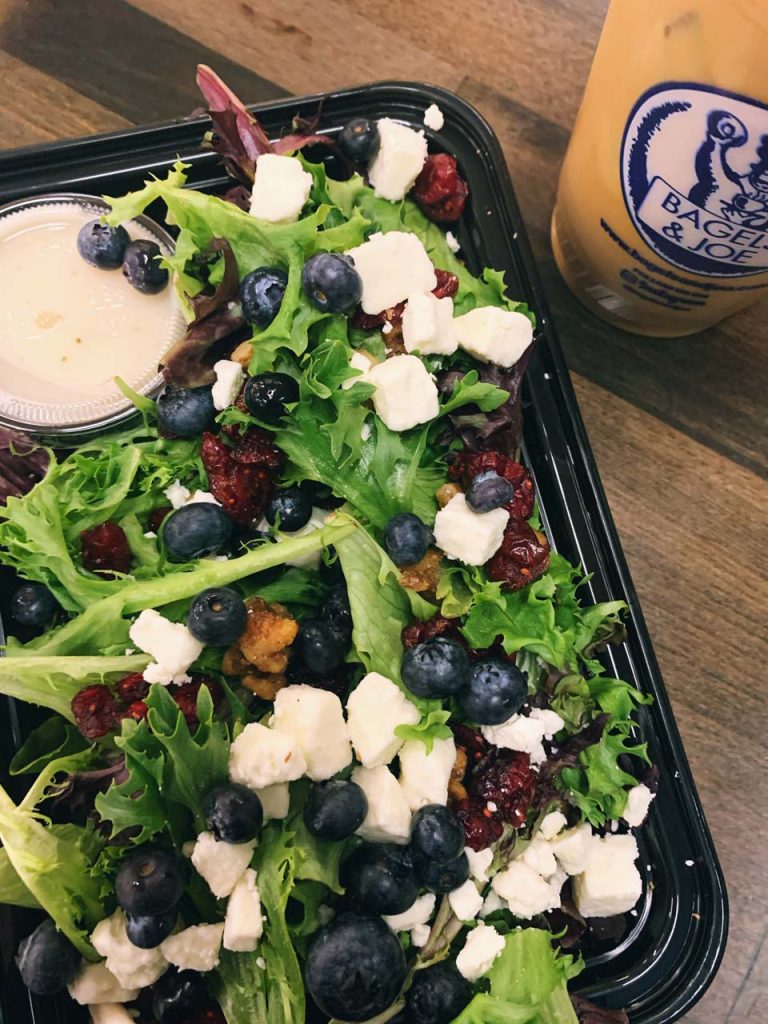 ORGANIC GREEN SALADS
We take the food we serve seriously, and this is why we only use Certified Organic greens in the salads we prepare. We refuse to apologize for quality.
BLUEBERRY WALNUT– Organic baby spring mix, fresh blueberries, dried cranberries, and caramelized walnuts. Topped with Feta cheese and served with our house balsamic dressing.
STRAWBERRY CHICKEN– Organic baby spring mix, grilled chicken, fresh strawberries, almonds, and feta served with a margarita dressing .
SMOKED TURKEY– Organic baby greens, tender smoked & sliced turkey breast, caramelized walnuts, and craisins.  Served with house Vidalia dressing.
AVOCADO SLIM– Organic baby green spring mix with tomato & cucumber topped with feta cheese, sliced almonds, and avocado.  Served with margarita herb dressing.
JOE'S COBB– Organic spring mix, sliced turkey, bacon, white cheddar, cucumber, tomato, onion, and hard-boiled egg. Served with house made ranch.
ARUGULA & PROSCIUTTO– arugula, prosciutto, artichoke hearts, hard boiled egg, asiago cheese, and red onion with margarita herb dressing.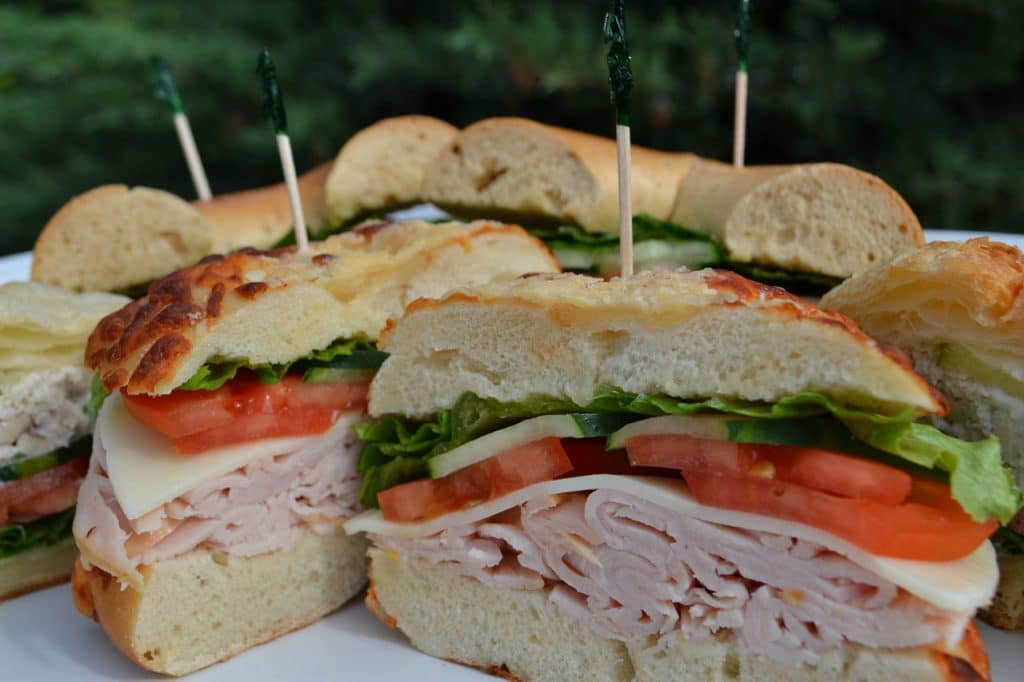 FRESH DELI SANDWICHES
These are the basics. Your choice of lettuce, cucumber, roma tomatoes, and onion on any of our fresh baked bagels!
TURKEY PROVOLONE– Honey roasted and thinly sliced turkey breast.
HAM & SWISS– Lightly smoked, hand carved pit style ham.
THE CLUB– Our deli sliced turkey and ham served with cheddar and swiss cheeses.
B&J BLT– Our take on a classic! Hickory bacon, lettuce, and tomatoes on a bagel with our hand blended Bacon Scallion cream cheese.
LOX & BAGEL– A fresh baked bagel topped with Plain cream cheese, capers, red onion, roma tomatoes, and thinly sliced smoked salmon.
VEGGIE– Veggie cream cheese, lettuce, roma tomato, cheddar cheese, cucumber and red onion.
ORCHARD CHICKEN– Delicately shredded chicken breast, granny smith apples, walnuts, celery, blended with mayonnaise and seasonings.
TURKEY AVOCADO DELI– turkey, spring mix, tomato, cucumber, onion, avocado and garden veggie cream cheese.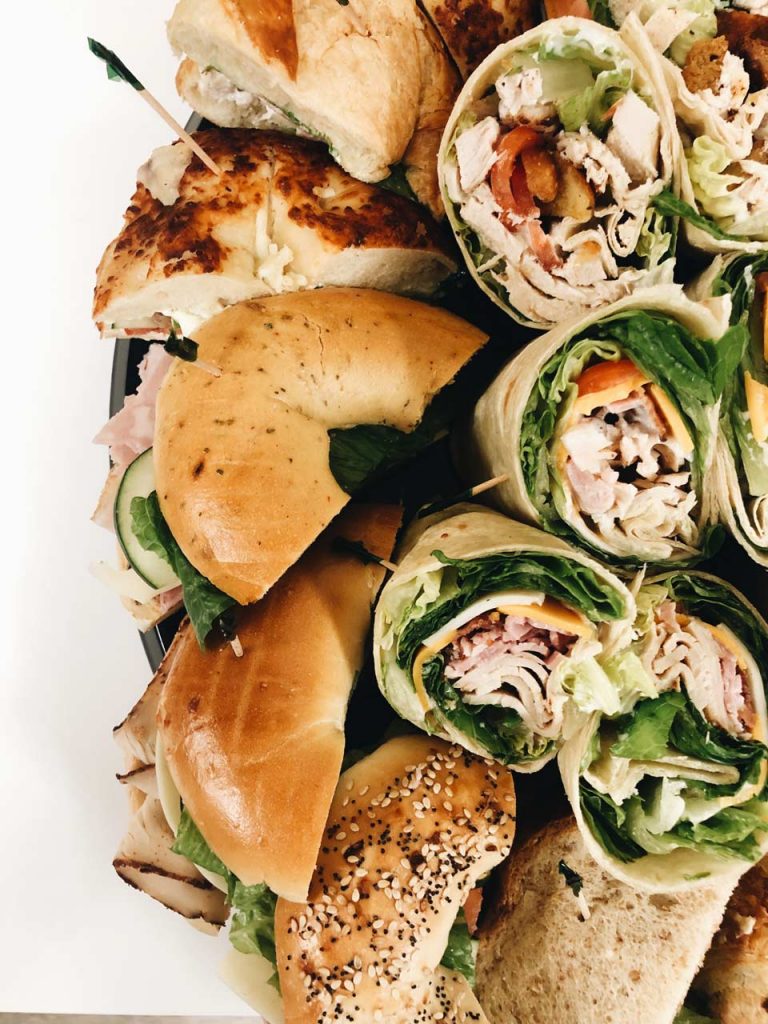 WRAPS
Hand rolled, never ahead of time, and served on a flour tortilla.
CARIBBEAN CHICKEN– Seasoned sliced chicken breast, cream cheese, lettuce, roma tomato, mango salsa, and pepperjack.
BACON CLUB- Lettuce, roma tomato, honey roasted turkey, cheddar, swiss, smoked ham, and of course crispy hickory bacon, topped with our homemade ranch dressing.
CALIFORNIA CLUB– Boursin gurney cheese, spring mix, turkey, ranch, avocado, bacon, tomato, and chipotle mayo.
CRANBERRY TURKEY- Boursin gournay cheese, spring mix, caramelized walnuts, craisins, freshly sliced turkey, and margarita herb dressing.
VEGETARIAN– Garden veggie cream cheese, fresh romaine lettuce, thinly sliced roma tomatoes, cucumbers, red onions, roasted red bell peppers, mango salsa, and cheddar cheese.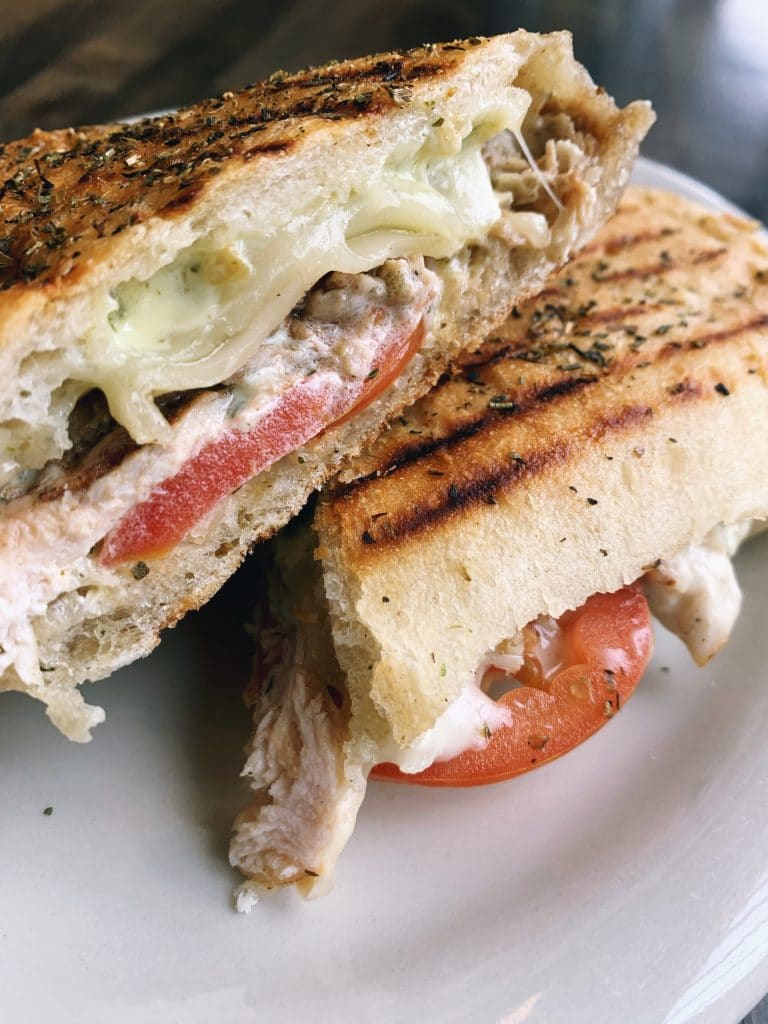 PANINI
In the mood for a hot sandwich? Our Panini are a favorite and a nice change of pace from the regular lunch routine. Fresh off the grill on lightly seasoned ciabatta.
BALSAMIC CHICKEN– Grilled and seasoned sliced chicken breast, provolone cheese, roma tomatos, topped with our homemade basil aioli and balsamic vinaigrette.
CHIPOTLE TURKEY– Like some spice? Served on a grilled asiago cheese bagel our most popular sandwich comes with honey turkey and roma tomatoes covered with melted provolone cheese and topped with our signature chipotle sauce.
CAPRESE– Basil, roma tomatoes, and thick cut mozzarella cheese. Topped with our homemade basil aioli spread and balsamic vinegar.
ADULT GRILLED CHEESE– Fresh Mozzarella, asiago, white cheddar, gournay cheese, fresh tomato, and double bacon on grilled wheat berry bread.
ITALIAN– ham, prosciutto, Boursin cheese, banana peppers, red peppers, provolone, and arugula on a grilled sun dried tomato bagel. 
VEGETARIAN– Fresh basil aioli, thinly sliced roma tomato, asiago cheese, coarse cut artichoke heart, roasted red bell pepper strips, and mango salsa.
 
WHETHER YOU'RE FEEDING 10 OR 200 LET OUR EXECUTIVE CATERING SERVICE MAKE YOUR LUNCH EASY. CLICK ON THE LINK BELOW TO ORDER!
Order Lunch